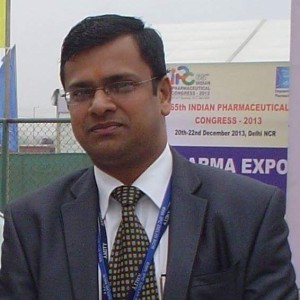 Dr. Amrish Chandra started his professional career in 2002 after his post graduation from Department of Pharmaceutical Sciences, Birla Institute of Technology, Mesra.
He was rapidly spotted as a dedicated faculty and hand picked up by a well-reputed pharmacy institute at Mathura, where he obtained his initial grooming.
He was then selected & joined Bundelkhand University, a State Government University at Jhansi where he also enrolled for his doctoral degree in 2005. He was fascinated by the applicability of noninvasive drug delivery technology and choose to work on Transdermal Drug Delivery System for his doctoral degree.
He got his first opportunity to lead an institute in 2008 and later on moved to Mangalayatan University, Aligarh as Founder Head, Department of Pharmacy, where he started M.Pharm. Pharmaceutics & dual degree programs in Pharmacy in 2010.
In present and past he has served on various boards and has been member of the Academic Council, Board of Studies, Cirriculum Revision Board, Examination Committee, Paper Moderation Board, Doctoral Research Committe, Faculty & Staff Recruitment Board, Institutional Animal Ethical Committee and Proctorial Board.  Has contributed as paper setter and practical examiner for National Universities and independent institutes.
He was recognized for the Best Oral Presentation by Association of Pharmacy Professionals in 2012.   He is presently, a member of national level forum for Pharmacy Teachers (APTI), Pharmacy Professionals (APP) and Pharmacy Graduates Association (IPGA). He is on the Editorial & Advisory Board of various National & International Journals.
His very multifaceted talent gives him the ability to integrate various sciences and for his out of the box thinking.  He qualified GATE twice and has to his credit 09 patents and has more than 25 national and international publications in recognized journals.
He has played an active role in designing & establishing various laboratories and getting it through Pharmacy Council of India (PCI) approval and CPCSEA approval process for animal experimentation and continues to do so.
He has guided 02 post graduates towards their M.Pharm. thesis and is currently guiding 04 candidates towards their Doctoral Degree in Pharmacy & 06 M.Pharm. students towards.
His present research focus is to harness the herbal diversity of the country, synthesize nanoparticles and develop effective formulations. An integrative approach which he believes is the key asset of a Pharmacy professional.
He is a dedicated philanthropist too and he along with his better half, Dr. Seema Garg, Faculty & Researcher in Chemistry work for the orphan children through Navya Welfare Society, named on the name of their daughter.